Bar Cutting Machine
New Age Construction Equipment Engineering Company is leading manufacturer and supplier of Bar Cutting Machine and Bar Bending Machine which are available in various size as per customer requirements. Our company is offering wide range of Bar Cutting Machine and Bar Bending Machine.
Functions and Usage of New Age Bar Cutting Machine
Our Bar Cutting Machine adopts Gears, Shafts, Connection ROD and Blades made of high- quality alloyed steel with required heat treatment (quenching/tempering/high frequency) and 12mm thick external case to ensure reliable performances also under heavy loads and long working life.
Connection ROD has high hardness degree on attaching part with the blades, its internal side is made of tin-bronze to avoid abrasions while touching the crankshaft.
thick and durable Blades to ensure accurate cutting with all kinds of steel bar(square blade or moon-shape blade option with press spring)
Dust proof MOTOR with aluminum shell.
Usage of Cutting Machine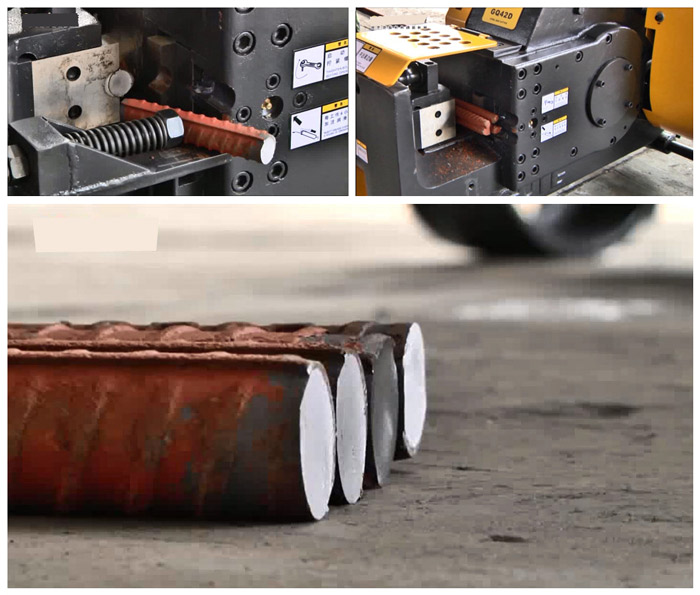 Models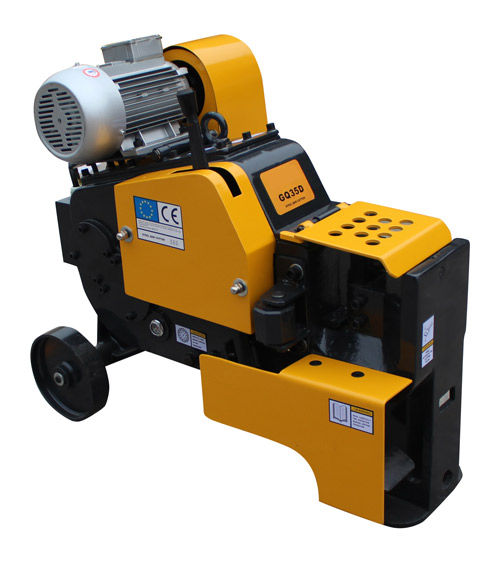 | Model | GQ 35D |
| --- | --- |
| Motor power | 2.2 kw(3 HP) |
| Motor speed | 2880 R/min |
| Cutting speed | 93 T/min |
| Weight | 332 kg |
| Dimensions(mm) | 940X580X800 |
Specification
Mechanical Cutting GQ 35D
Diameter of bars in MM
36
32
25
20
16
12
10
8
6
No of round bars of 45kg/mm2
1
1
2
2
3
5
6
7
8
No of TMT bars of 65kg/ mm2
-
1
1
1
2
4
5
6
7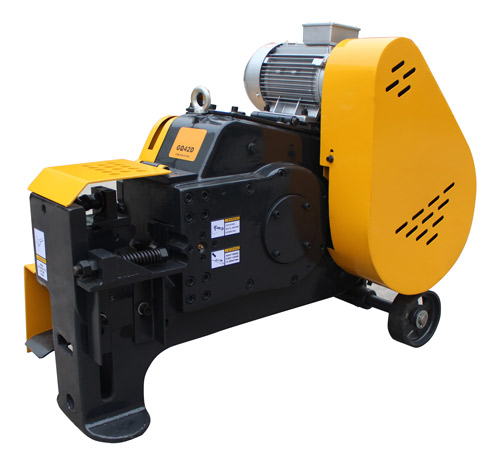 | Model | GQ 42D |
| --- | --- |
| Motor power | 3 kw(4 HP) |
| Motor speed | 2880 R/min |
| Cutting speed | 48 T/min |
| Weight | 470 kg |
| Dimensions(mm) | 1100X500X900 |
Specification
Mechanical Cutting GQ 42D
Diameter of bars in MM
40
36
32
25
20
16
12
10
8
No of round bars of 45kg/mm2
1
1
1
2
2
2
3
5
7
No of TMT bars of 65kg/ mm2
-
1
1
1
2
3
4
5
6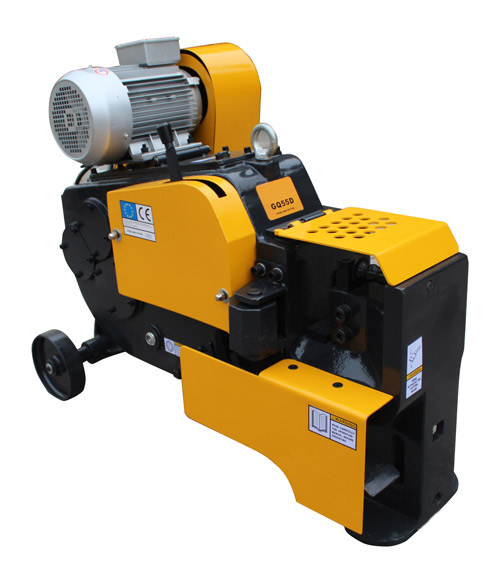 | Model | GQ 55D |
| --- | --- |
| Motor power | 4 kw |
| Motor speed | 2880 R/min |
| Cutting speed | 41 T/min |
| Weight | 715 kg |
| Dimensions(mm) | 1270X650X950 |
Specification
Mechanical Cutting GQ 55D
Diameter of bars in MM
50
40
36
32
25
20
16
12
10
No of round bars of 45kg/mm2
1
1
1
2
2
2
3
4
5
No of TMT bars of 65kg/ mm2
-
-
1
1
2
2
3
3
4