Mobile Scissor Lift
Features
Pointing control of lifting up and down.
Manganese steel lifting arm in high strength with rectangle shape.
Anti-skid floor in platform.
The control panels are available on the platforms and ground.
Fine grinding cylinder in good sealing performance.
Neatly folding guardrails make it easy to maneuver through doorways, into elevators and throughout other height-restricted areas.
Safety Precautions
The operation voltage on the platform is 24V
Emergency stop button on the platform and ground
Auxiliary platform lowering
Telescopic legs on the chassis
Hose burst valve safety
Rain-proof design electric cabinet
Fence on the platform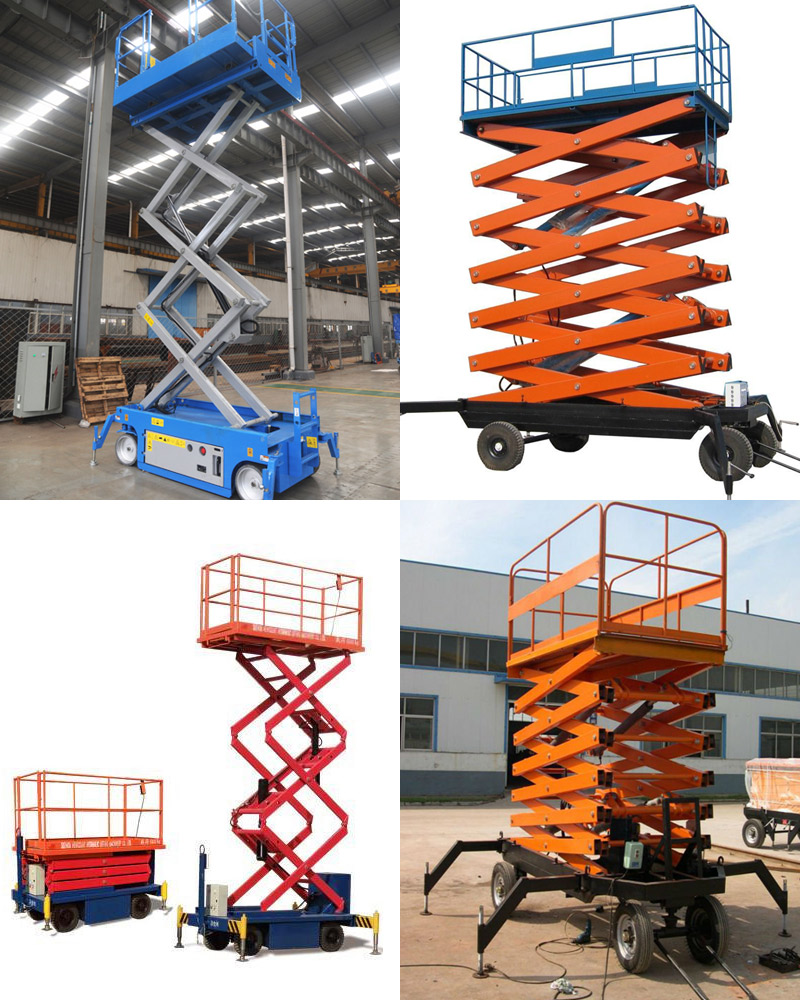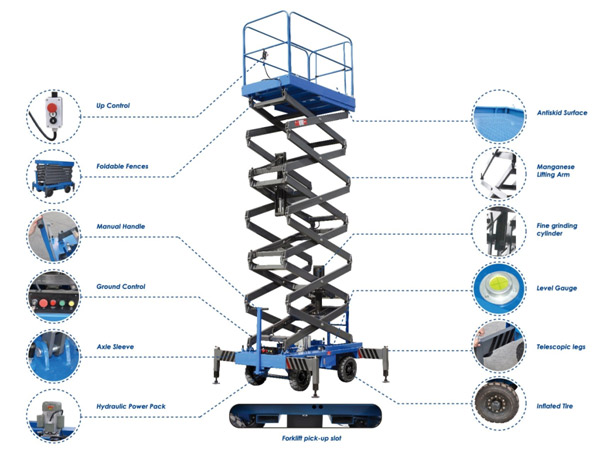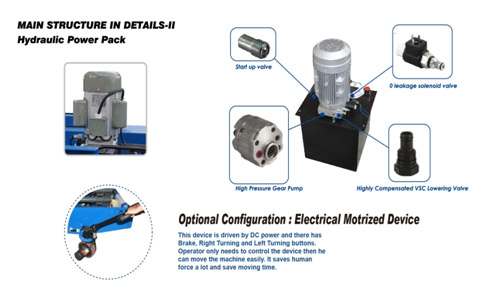 Models
SJY0.3-16
SJY0.5-6
SJY0.5-10
SJY0.5-12
SJY0.45-3
SJY0.45-7.5
SJY0.45-9
SJY0.45-11
SJY0.45-14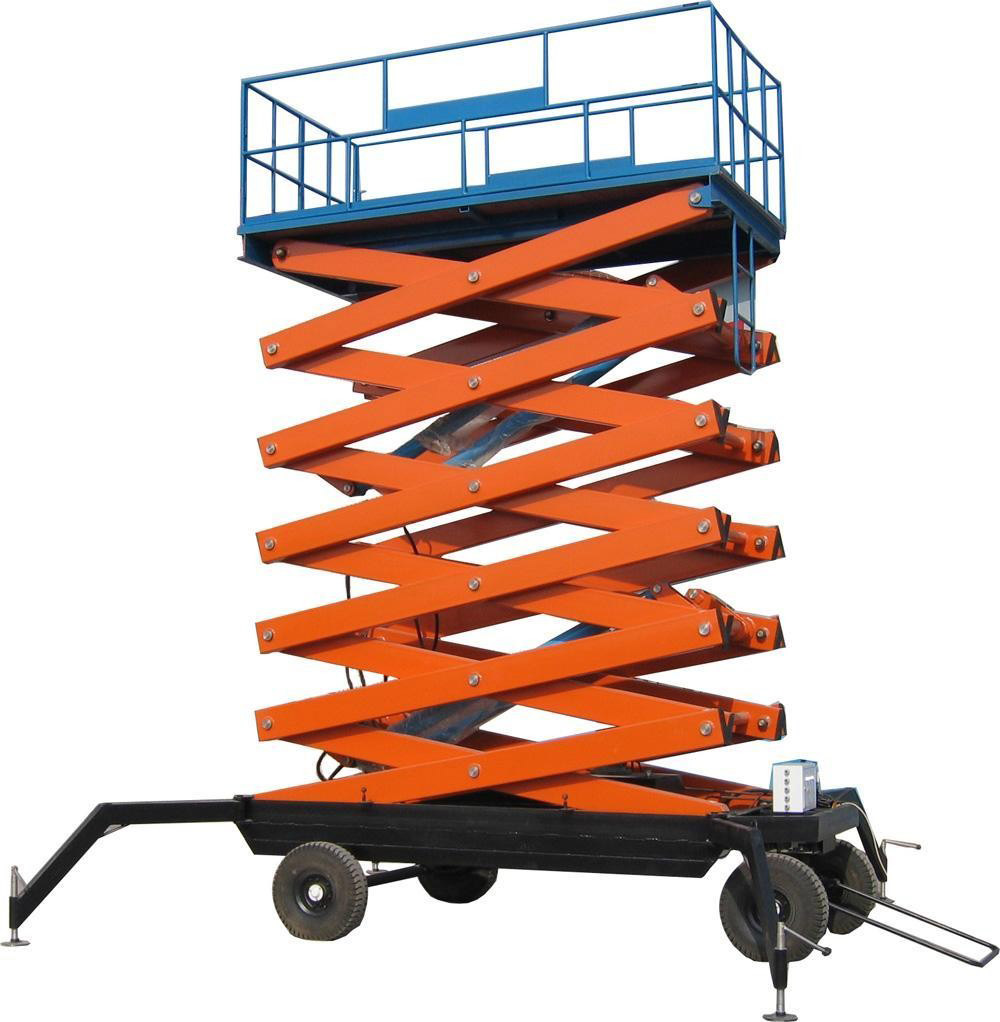 SJY0.3-16
Parameter
Loading Capacity
300kg
Maximum Height
16000mm
Minimum Height
2000mm
Platform Size
2700*1500mm
Lifting Power
3kw
Power Voltage
1phase/220V/50HZ or 3phases/380V/50HZ
Lifting Time
130s
Cylinder
Ф100mm (1Pc) Ф80(4Pcs)
Gear Pump
6ml/r
Total Weight
2680kg
Measurement
2750*1740*2000mm
Configuration
Electric system
Schneider contactor,SANLICO button,CHNT electrical
Hydraulic System
Hycman power pack ,NOK sealing
Scissor Arm Support
Hi-strength Maganese steel rectangle tube Q345 B
Platform Surface
antiskid checkered plate
Driving Tyre
Ø600-9 Inflated tires
High-pressure Oil Pipe
double wire hydraulic intensifier rubber hose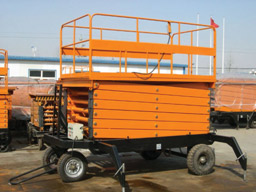 SJY0.5-6
Parameter
Loading Capacity
500Kg
Maximum Height
6000mm
Minimum Height
950mm
Platform Size
1850mm*880mm
Lifting Power
1.1kw
Power Voltage
1phase/220V/50HZ or 3phases/380V/50HZ
Lifting Time
54s
Cylinder
Ф80(2Pcs)
Gear Pump
6ml/r
Total Weight
650kg
Measurement
1900*1120*950mm
Configuration
Electric system
Schneider contactor,SANLICO button,CHNT electrical
Hydraulic System
Hycman power pack ,NOK sealing
Scissor Arm Support
Hi-strength Maganese steel rectangle tube Q345 B
Platform Surface
antiskid checkered plate
Driving Tyre
Ø200 Polyurethane wheel
High-pressure Oil Pipe
double wire hydraulic intensifier rubber hose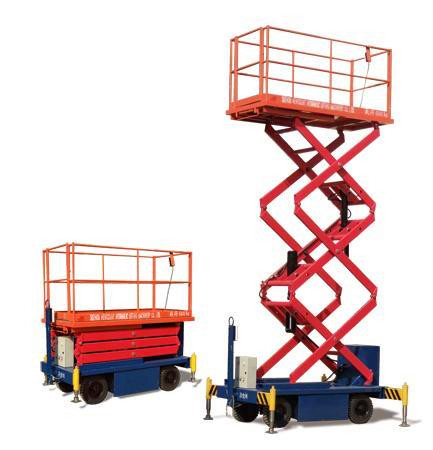 SJY0.5-10
Parameter
Loading Capacity
500kg
Maximum Height
10000mm
Minimum Height
1850mm
Platform Size
2100mm*1150mm
Lifting Power
2.2kw
Power Voltage
24V DC
Lifting Time
88s
Cylinder
Ф80(3Pcs)
Gear Pump
6ml/r
Total Weight
1380kg
Measurement
2150*1390*1850mm
Configuration
Electric system
Schneider contactor,SANLICO button,CHNT electrical
Hydraulic System
Hycman power pack ,NOK sealing
Scissor Arm Support
Hi-strength Maganese steel rectangle tube Q345 B
Platform Surface
antiskid checkered plate
Driving Tyre
Ø500-8 Inflated tires
High-pressure Oil Pipe
double wire hydraulic intensifier rubber hose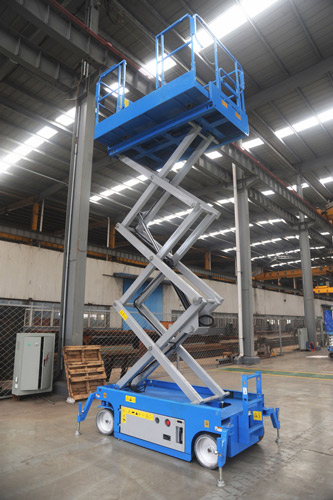 SJY0.5-12
Parameter
Loading Capacity
500kg
Maximum Height
12000mm
Minimum Height
1850mm
Platform Size
2450mm*1350mm
Lifting Power
3kw
Power Voltage
1phase/220V/50HZ or 3phases/380V/50HZ
Lifting Time
90s
Cylinder
Ф100(3Pcs)
Gear Pump
6ml/r
Total Weight
2250kg
Measurement
2600*1590*1850mm
Configuration
Electric system
Schneider contactor,SANLICO button,CHNT electrical
Hydraulic System
Hycman power pack ,NOK sealing
Scissor Arm Support
Hi-strength Maganese steel rectangle tube Q345 B
Platform Surface
antiskid checkered plate
Driving Tyre
Ø500-8 Inflated tires
High-pressure Oil Pipe
double wire hydraulic intensifier rubber hose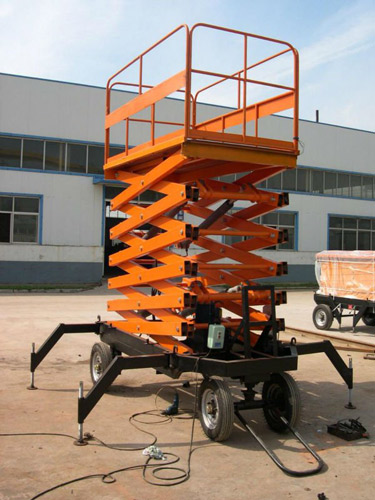 SJY0.45-3
Parameter
Loading Capacity
450kg
Maximum Height
3000mm
Minimum Height
800mm
Platform Size
1300*700mm
Lifting Power
0.75kw
Power Voltage
1phase/220V/50HZ or 3phases/380V/50HZ
Lifting Time
30s
Cylinder
Ф80(1Pc)
Gear Pump
4ml/r
Total Weight
450kg
Measurement
1350*940*800mm
Configuration
Electric system
Schneider contactor,SANLICO button,CHNT electrical
Hydraulic System
Hycman power pack ,NOK sealing
Scissor Arm Support
Hi-strength Maganese steel rectangle tube Q345 B
Platform Surface
antiskid checkered plate
Driving Tyre
Ø200 Polyurethane wheel
High-pressure Oil Pipe
double wire hydraulic intensifier rubber hose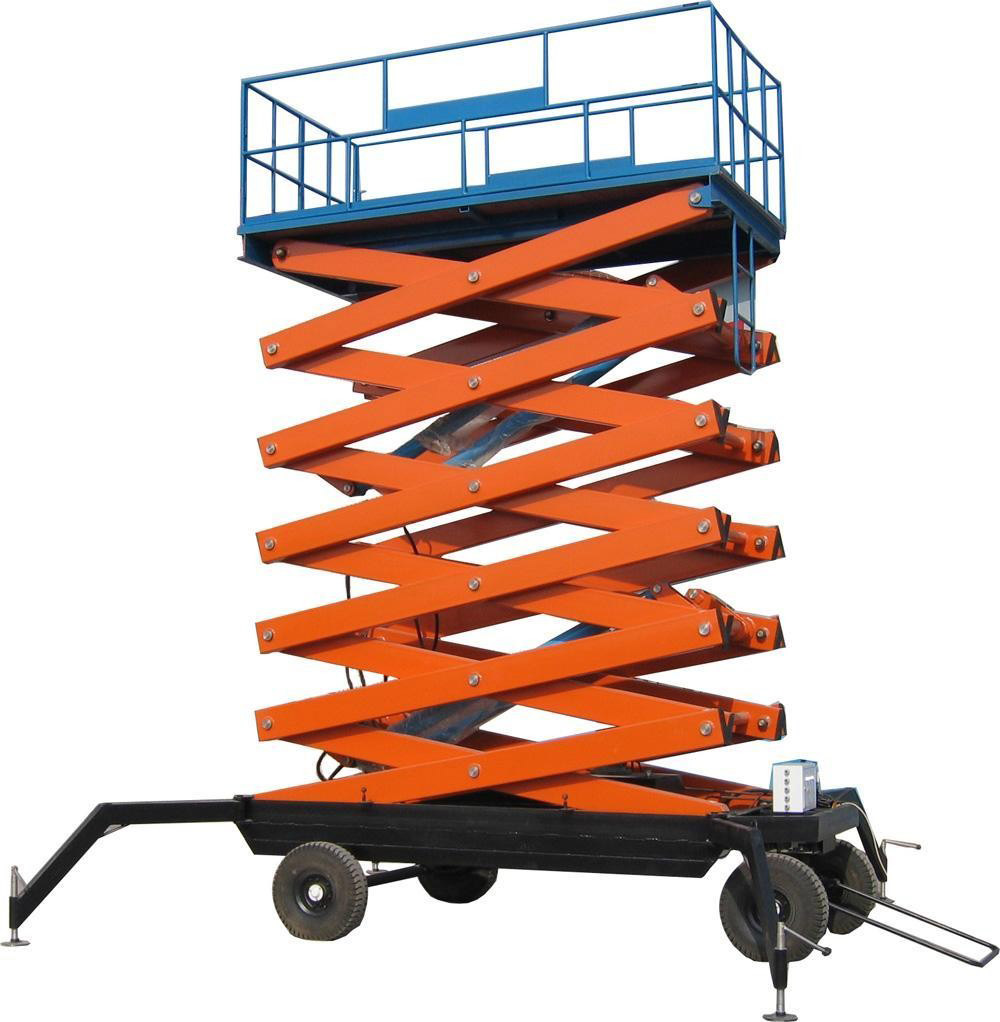 SJY0.45-7.5
Parameter
Loading Capacity
450kg
Maximum Height
7500mm
Minimum Height
1500mm
Platform Size
1800*1000mm
Lifting Power
1.5kw
Power Voltage
1phase/220V/50HZ or 3phases/380V/50HZ
Lifting Time
72s
Cylinder
Ф80(2Pcs)
Gear Pump
4ml/r
Total Weight
1100kg
Measurement
1850*1240*1500mm
Configuration
Electric system
Schneider contactor,SANLICO button,CHNT electrical
Hydraulic System
Hycman power pack ,NOK sealing
Scissor Arm Support
Hi-strength Maganese steel rectangle tube Q345 B
Platform Surface
antiskid checkered plate
Driving Tyre
Ø400-8 Inflated tires
High-pressure Oil Pipe
double wire hydraulic intensifier rubber hose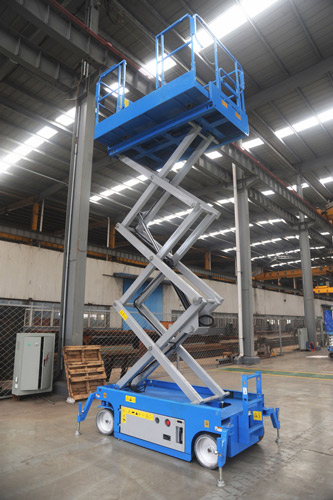 SJY0.45-9
Parameter
Loading Capacity
450kg
Maximum Height
9000mm
Minimum Height
1650mm
Platform Size
1800*1000mm
Lifting Power
1.5kw
Power Voltage
1phase/220V/50HZ or 3phases/380V/50HZ
Lifting Time
80s
Cylinder
Ф100(2Pcs)
Gear Pump
6ml/r
Total Weight
1260kg
Measurement
1850*1240*1650mm
Configuration
Electric system
Schneider contactor,SANLICO button,CHNT electrical
Hydraulic System
Hycman power pack ,NOK sealing
Scissor Arm Support
Hi-strength Maganese steel rectangle tube Q345 B
Platform Surface
antiskid checkered plate
Driving Tyre
Ø400-8 Inflated tires
High-pressure Oil Pipe
double wire hydraulic intensifier rubber hose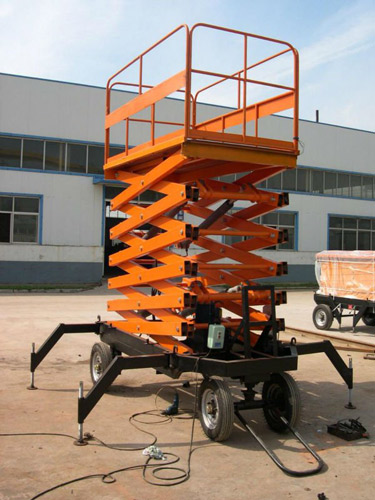 SJY0.45-11
Parameter
Loading Capacity
450kg
Maximum Height
11000mm
Minimum Height
1850mm
Platform Size
2100mm*1150mm
Lifting Power
2.2kw
Power Voltage
1phase/220V/50HZ or 3phases/380V/50HZ
Lifting Time
88s
Cylinder
Ф80(3Pcs)
Gear Pump
6ml/r
Total Weight
1380kg
Measurement
2150*1390*1850mm
Configuration
Electric system
Schneider contactor,SANLICO button,CHNT electrical
Hydraulic System
Hycman power pack ,NOK sealing
Scissor Arm Support
Hi-strength Maganese steel rectangle tube Q345 B
Platform Surface
antiskid checkered plate
Driving Tyre
Ø500-8 Inflated tires
High-pressure Oil Pipe
double wire hydraulic intensifier rubber hose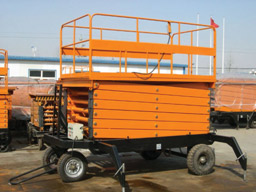 SJY0.45-14
Parameter
Loading Capacity
450kg
Maximum Height
14000mm
Minimum Height
2000mm
Platform Size
2450*1350mm
Lifting Power
3kw
Power Voltage
1phase/220V/50HZ or 3phases/380V/50HZ
Lifting Time
120s
Cylinder
Ф100(3Pcs)
Gear Pump
6ml/r
Total Weight
2150kg
Measurement
2600*1590*2000mm
Configuration
Electric system
Schneider contactor,SANLICO button,CHNT electrical
Hydraulic System
Hycman power pack ,NOK sealing
Scissor Arm Support
Hi-strength Maganese steel rectangle tube Q345 B
Platform Surface
antiskid checkered plate
Driving Tyre
Ø500-8 Inflated tires
High-pressure Oil Pipe
double wire hydraulic intensifier rubber hose