Bar Bending Machine
New Age Construction Equipment Engineering Company is leading manufacturer and supplier of Bar Cutting Machine and Bar Bending Machine which are available in various size as per customer requirements. Our company is offering wide range of Bar Cutting Machine and Bar Bending Machine.
Functions and Usage of New Age Bar Bending Machine
Our Bar Bending Machine adopts the fully enclosed GEAR BOX separated from the working disk for no distortions even under the condition of heavy loads and no oil leaking while lifting the machine.
Gears, Gear shafts, working disk, Stop gauge, Saddles, pile Heads and Pile head bushes made of high-quality alloyed stell with proper heat treatment (quenching/tempering/high frequency) and 3mm thick external case to ensure high performances also under heavy loads and long working life.
Dust proof Brake motor and two limit switch to ensure the accuracy of the bending angle also after stopping and restarting.
lnsert - pin type disk and movable saddles for a precise adjusting of the bending angle.
Usage of Bar Bending Machine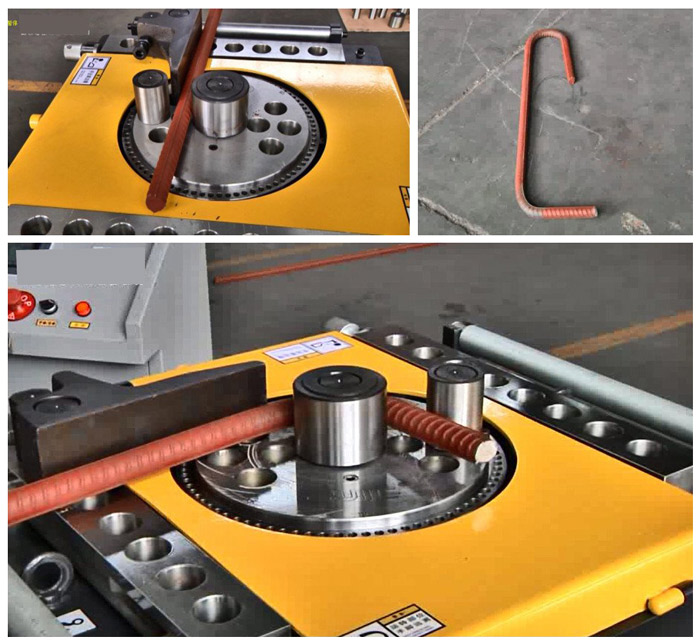 Models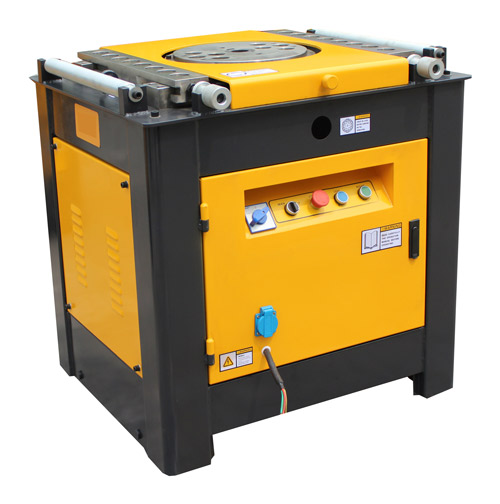 | Model | GW 35D |
| --- | --- |
| Operation | Automatic (Brake motor) |
| Motor power | 2.2 KW(3 HP) |
| Motor speed | 1440 R/min |
| Disk speed | 12 R/min |
| Weight | 345 kg |
| Dimensions(mm) | 850X820X850 |
Specification
Mechanical Bending GW 35D
Diameter of Bars in MM
36
32
25
20
16
12
10
8
6
No of round bars of 45kg/ mm2
1
1
2
2
5
6
7
8
10
No of TMT bars of 65kg/ mm2
-
1
1
1
4
5
6
7
9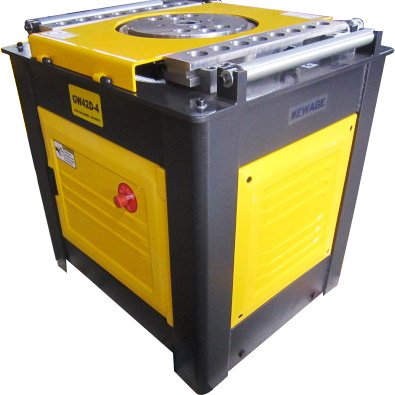 | Model | GW 42D |
| --- | --- |
| Operation | Automatic (Brake motor) |
| Motor power | 3 KW(4 HP) |
| Motor speed | 1440 R/min |
| Disk speed | 12 R/min |
| Weight | 374 kg |
| Dimensions(mm) | 810X760X860 |
Specification
Mechanical Bending GW 42D
Diameter of Bars in MM
40
36
32
25
20
16
12
10
8
No of round bars of 45kg/ mm2
1
1
1
2
3
4
6
8
9
No of TMT bars of 65kg/ mm2
-
1
1
2
2
3
4
5
6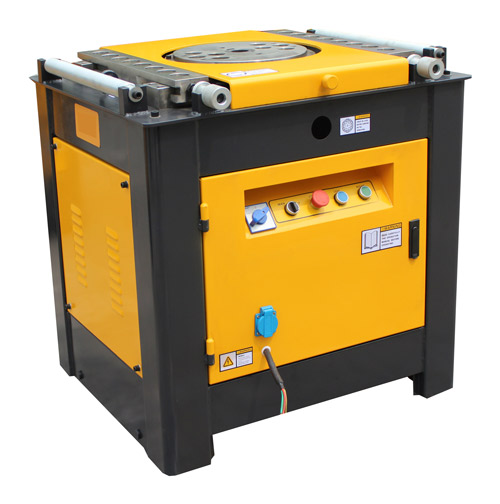 | Model | GW 55D |
| --- | --- |
| Operation | Automatic (Brake motor) |
| Motor power | 4 KW |
| Motor speed | 1440 R/min |
| Disk speed | 7.8 R/min |
| Weight | 540 kg |
| Dimensions(mm) | 910X700X910 |
Specification
Mechanical Bending GW 55D
Diameter of Bars in MM
50
40
36
32
25
20
16
12
10
No of round bars of 45kg/ mm2
1
1
1
2
2
2
3
3
4
No of TMT bars of 65kg/ mm2
-
-
1
1
2
2
3
3
4